News

Double Bubble ...


Chemical and Engineering News reports on a recent paper in Science (2005, 308, 537) authored by David Weitz and his colleagues: "A new microfluidics-based device made by physicist David A. Weitz and colleagues at Harvard University and Unilever Corp. makes precisely controlled double emulsions in a single step (Science 2005, 308, 537). Double emulsions--droplets inside droplets--could be useful for encapsulating products such as drugs, cosmetics, or food additives." For complete details go here. MSNBC has created a related story that features a video of the bubbles in action. To read the story and to watch the movie go here or here. Researcher Darren Link says there's a poetry to the physics behind the technique. "I think it's art," he says.

Frontiers of Soft Condensed Matter Workshop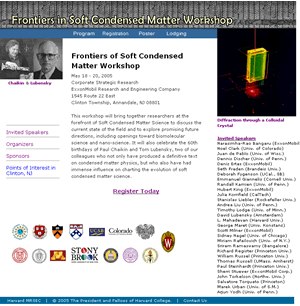 The Frontiers of Soft Condensed Matter Workshop will bring together researchers at the forefront of Soft Condensed Matter Science to discuss the current state of the field and to explore promising future directions, including openings toward biomolecular science and nano-science. It will also celebrate the 60th birthdays of Paul Chaikin and Tom Lubensky, two of our colleagues who not only have produced a definitive text on condensed matter physics, but who also have had immense influence on charting the evolution of soft condensed matter science.

RET: Research Experience for Teachers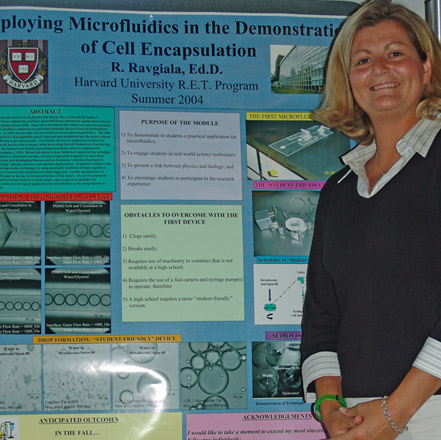 The 2005 RET Program offers opportunities for teachers of science and technology to work with research scientists and engineers at Harvard University.
Application Deadline: April 15, 2005

Strange Matter Exhibit
at the Museum of Science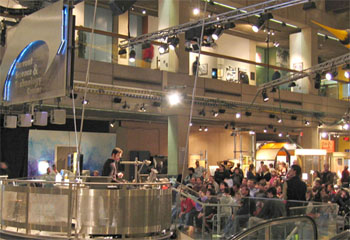 Dr. Itai Cohen from the Materials Center giving a presentation on Soft Condensed Matter at the Current Science and Technology Center at the Museum of Science, Boston on Nov. 20, 2004. His presentation for parents and children was given as part of the Strange Matter Exhibit hosted by the museum.