Graduate Student

Elizabeth Gallardo Hevia
School of Engineering and Applied Sciences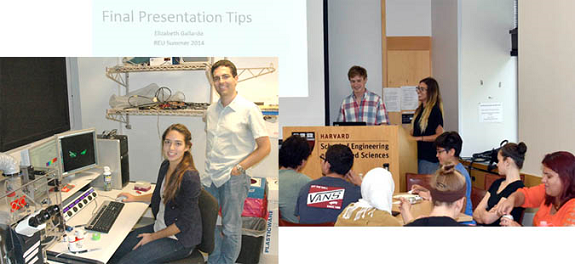 Elizabeth Gallardo Hevia is a Ph.D. candidate in Mechanical Engineering at Harvard University's John A. Paulson School of Engineering and Applied Sciences. Elizabeth graduated from Florida International University in 2016 with a bachelor's degree in Biomedical Engineering.
Elizabeth became inspired to pursue a doctoral degree after participating in a Research Experience for Undergraduates (REU) program held at Harvard in the summer of 2014. During her time there, Elizabeth worked with Prof. David A. Weitz. She studied how the properties of substrate materials affect cell mechanics.
MRESEC's REU program gave Elizabeth the opportunity to engage with a project where she learned how to fabricate composite materials, maintain and handle cell cultures, and use confocal microscopy, among many other skills useful in her line of work today. There was a great involvement from Adrian Pegoraro, her mentor, who guided her through the project whilst still allowing her the creative freedom of developing experiment designs (left). The final results were presented to Harvard faculty and later to others at various conferences throughout the United States. She has given back by giving workshops on presentation skills together with other former REU students (right).
In Harvard in the graduate program, Elizabeth is working with Prof. Conor Walsh. She is developing wearable soft robotic devices to apply repeatable forces to muscle tissue to study mechanotherapy in a controlled manner on human subjects. Her goal is to understand how the therapy can be used to enhance muscle fatigue recovery for athletes performing strenuous exercise.