Public Engagement
Annual Holiday Lecture
Professor Howard Stone works with K-12 teachers, postdoctoral researchers, undergraduates and Harvard Science Center staff to develop an annual Holiday Lecture for children and families. Past themes include: surface science, polymers, the science of paper, and the Miracle Year of Physics. The 2006 Holiday Lecture, "Science by Candlelight," took place on December 16.

Public Talks at the Museum of Science, Boston
Faculty and researchers gave public presentations in conjunction with the Strange Matter Exhibit during its time at the Museum of Science, Boston. Faculty and postdoctoral fellows gave talks on the properties of exotic materials such as metallic glass, as well as explanations of the physics of everyday materials.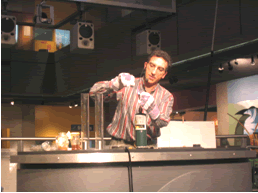 Community Science Days
MRSEC faculty and researchers also participate in Community Science Days in collaboration with local public schools. Faculty and researchers give short talks and host demonstration tables.