Congratulations to Harvard SEAS Professor Vinny Manoharan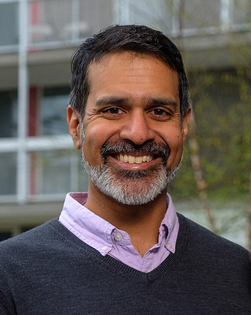 Recipient of the Capers and Marion McDonald Award for Excellence in Mentoring and Advising
May 9, 2022
Vinny N. Manoharan, Wagner Family Professor of Chemical Engineering and Professor of Physics at the Harvard School of Engineering and Applied Sciences (SEAS), is a recipient of the Capers and Marion McDonald Award for Excellence in Mentoring and Advising.
The Capers and Marion McDonald award is in recognition of Vinny Manoharan's dedication to recruiting minority and first-generation students as well as students of other disadvantaged backgrounds to Harvard. Importantly, he is also involved in the follow-up work to ensure that these students once admitted feel welcome, at-home, and can strive in the Harvard academic community.
Vinny is a faculty member in SEAS and Physics at Harvard University. He attained his Ph.D. in Chemical Engineering from the University of California, Santa Barbara, where he worked with Professor David J. Pine. He completed his postdoctoral research with Professor John Crocker at the University of Pennsylvania before joining the faculty at Harvard in 2005.