Congratulations to Harvard SEAS Professor George M. Whitesides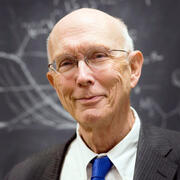 Recipient of the Kavli Prize in Nanoscience
June 1, 2022
By: Yahya Chaudhry
Communications and Outreach Manager
Department of Chemistry and Chemical Biology
Professor George M. Whitesides, Woodford L. and Ann A. Flowers University Professor, has been selected as one the recipients of the 2022 Kavli Prize in Nanoscience, which honors the "pioneers that created molecular scale coatings for surfaces which enable unprecedented control and engineering of surface properties. Their work transformed surface science and has led to applications shaping our daily lives in areas from medical diagnostics to semiconductor devices."
The Kavli Prizes are awarded in three areas: astrophysics, nanoscience and neuroscience "to recognize outstanding scientific research, honor highly creative scientists, promote public understanding of scientists and their work, and foster international cooperation among scientists." The prize consists of USD $1,000,000 in each of the scientific fields.
The Kavli Prize in Nanoscience is awarded for outstanding achievement in the science and application of the unique physical, chemical and biological properties of atomic, molecular, macromolecular, and cellular structures and systems that are manifest in the nanometer scale, including molecular self-assembly, nanomaterials, nanoscale instrumentation, nanobiotechnology, macromolecular synthesis, molecular mechanics and related topics.
Professor Whitesides recieved the prize "for leading the development of multiple applications and innovations of SAMs, in particular the invention of patterning of, with and using SAMs."
Professor Whitesides and his team were responsible for many innovations which consolidated SAMs as a field of nanoscience and engineering. Of particular significance was the introduction of patterning of, with, and using SAMs [6-8]. With this work they initiated the areas of soft lithography, microcontact printing, and the use of SAMs as resists in lithographic nanofabrication, all crucial enablers of today's high-tech industries. SAMs are used extensively in medical diagnostics, pharmacology, biosensors, chemical sensors, printers, electronics manufacturing, paints, solar cells, and batteries. There are more than ten thousand SAM-related patents and SAMs have enabled numerous multi-billion-dollar commercial markets.
The Kavli Prizes are planned and implemented by three partners, the Norwegian Ministry of Education and Research, and the Kavli Foundation. Since the first awards in 2008, The Kavli Prize has recognized innovative scientific research — from the discovery of CRISPR-Cas9 to the detection of gravitational waves — transforming our understanding of the very big, the very small and the very complex.
The Kavli Prize Laureates are celebrated in Oslo, Norway, in a ceremony presided over by the Royal Family. The Kavli Prizes have so far honored 54 scientists from 13 countries: Austria, Czechia, France, Germany, Japan, Lithuania, Netherlands, Norway, Russia, Sweden, Switzerland, United States, and United Kingdom. Ten laureates received The Nobel Prize after receiving The Kavli Prize.
Watch the prize announcement and learn more about the prize.