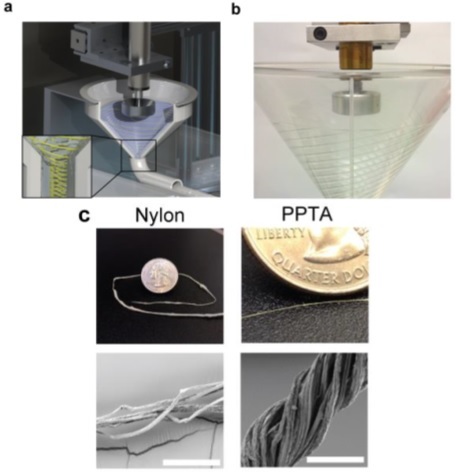 From: Gonzalez, G.M., L.A. MacQueen, J.U. Lind, S.A. Fitzgibbons, C.O. Chantre, I. Huggler, H.M. Golecki, J.A. Goss, and K.K. Parker, "Production of synthetic, para-aramid and biopolymer nanofibers by immersion rotary jet-spinning," Macromolecular Materials and Engineering. 302 (1), (2017).

Kevin K. Parker who leads this project is a lieutenant colonel in the United States Army Reserve having served several active duty tours in Afghanistan after the September 11 attacks. Kit has been instrumental in recruiting returning veterans to this research project and to other efforts in the Harvard MRSEC as part of our Veterans student/researcher outreach initiative. Indeed, several of the authors on the recent work are returning veterans who are pursuing careers in STEM as a result of engagement of research projects such as these that have a meaningful connection to fellow active duty service personnel.

The figures show a) the funnel collection system, b) the streamlines of the vortex wrapping individual nanofibers into yarns, allowing for their manual collection, and c) nylon and PPTA nanofiber yarns that were fabricated (scale bars = 50 μm). The vortex was created by having an inlet precipitant fluid flow into and out of a funnel at a rate that created and sustained the vortex.