Educational Programs

The Center has a strong commitment to education and public engagement.
The Early Awareness Outreach Program in the Cambridge public schools brings the city's seventh-grade students to Harvard to learn about college education from faculty and students. MRSEC-associated faculty each give a short demonstration of some interesting research results to help inspire interest in materials research.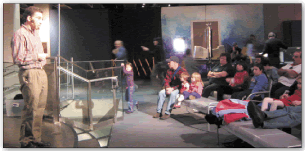 Presentation at the Current Science and Technology Center, Museum of Science - Boston, by Prof. Michael J. Aziz.
Public Lectures. MRSEC faculty and researchers give Holiday lectures annually and have initiated an interaction with the Boston Museum of Science to present more hand-on demonstrations. Our researchers also assist in public presentations such as the MRSEC-sponsored Strange Matter Exhibit which visited the Museum of Science, Boston (above).
Our Research Experience for Undergraduates (REU) program allows undergraduates to spend ten weeks in the summer doing research in Center Laboratories. Students who are members of underrepresented groups in science and engineering are actively recruited.
The Research Experience for Teachers (RET) program introduces public school teachers to ongoing MRSEC research and develops connections with public schools.
Materials, Chemistry, and Physics Course (Applied Physics 298r) at Harvard covers the fundamental concepts from current topics in materials and engineering research as well as possible applications, in a series of lectures taught by MRSEC faculty members.
Our Postdoctoral Research Fellowship Program for Women and Minorities attracts outstanding candidates to university research.
For a calendar of MRSEC talks and events, please see the events page.