Interdisciplinary Research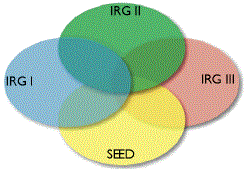 Industrial scientists are often the featured speaker at the Wednesday evening Squishy Physics Seminar.
The MRSEC has three collaborative Interdisciplinary Research Groups (IRGs). We have also developed strong connections among Center researchers that reach across the IRG boundaries and draw on complementary strengths that pair theory with experiment or new perspectives from the collective of our broad expertise. The current IRGs are:
IRG I: Micromechanics
The goal of this is IRG is to elucidate some important and fascinating examples of the fundamental mechanisms that control the mechanics of materials. By developing new tools and techniques, we will address longstanding problems and explore hitherto unexplained behavior of several important classes of material.
IRG II: Droplet Templated Materials
The goal of this IRG is to use droplet-based microfluidics to fabricate new materials ranging from designer emulsions, to particle-based materials precisely constructed within droplets, to droplets with precisely tuned internal properties and shapes, to new methodologies for creating tailored fiber-based materials.
IRG III: Active Soft Materials
The goal of this IRG is to develop new materials and new components for use in 'soft systems,' such as soft robotics, foldable motors, and muscle-like actuators.
Seed Projects
The MRSEC uses seed support to fund emerging areas, such as developing new materials for photocatalytic processes, or to study the behavior of cells that can lead to high impact, transformational research, allowing rapid response to evolving ideas and that will move the Center in new directions. Seed funds are also used to support junior faculty to help integrate them into our reseach community that is highly collaborative and multidisciplinary.