Interdisciplinary Research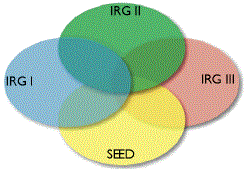 The MRSEC has three collaborative Interdisciplinary Research Groups (IRGs). We have also developed strong connections among Center researchers that reach across the IRG boundaries and draw on complementary strengths that pair theory with experiment or new perspectives from the collective of our broad expertise. The current IRGs are:
IRG I: Mechanics of Soft Materials under Large Deformation
This IRG investigates properties of soft materials that are subjected to very large deformations through the fracture of composite hydrogels, slip that occurs in sliding friction of rough surfaces, and the flow of disordered materials.
IRG II: Digital Assembly of Soft Materials
This IRG is developing the fundamental knowledge essential to create and rapidly transform diverse classes of soft materials into three-dimensional functional architectures.
IRG III: Controlling and Using Instabilities in Soft, Elastic, Melded-function, Non-linear Materials and Devices
This IRG is developing the science of SOFT (soft, non-linear, unstable, melded-function, and elastomeric) materials and uses these material instabilities to develop devices with high-value performance at lower cost.
Seed Projects
The MRSEC uses seed support to fund emerging areas, such as developing new materials for photocatalytic processes or to study the behavior of cells, that can lead to high impact, transformational research, allowing rapid response to evolving ideas and that will move the Center in new directions. Seed funds are also used to support junior faculty to help integrate them into our reseach community that is highly collaborative and multidisciplinary.