Experimental Facilities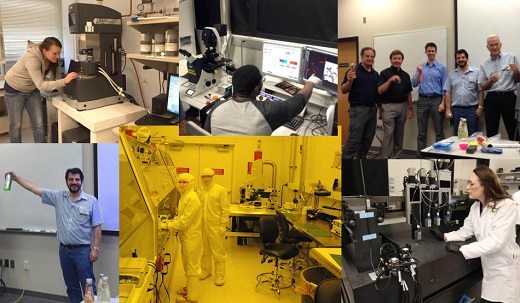 Shared experimental facilities provide essential instrumentation for materials preparation and characterization. The MRSEC operates equipment to support our Center research, including:
Rheological instrumentation
Thermal analysis (DSC, TGA, DMA, ITC calorimeters)
High-speed cameras and microfluidic equipment
Confocal microscopes
Soft lithography facilities
3D printing facilities
These instruments are operated under faculty supervision with training by postdoctoral fellow and graduate student "super-users," and they are also available to researchers from academe and industry. If you are interested in finding out more about the equipment in these facilities, please contact us.
The Center for Nanoscale Systems (CNS) at Harvard offers major instrumentation, professional guidance, and technical support to researchers in the areas of:
Electron Microscopy (STEM, TEM, SEM, ESEM, FIB, and sample preparation)
Fabrication Facilities (Cleanroom, e-beam lithography, RIE, ALD, and Etching)
Nanoscale Analysis (XPS, AFM, Raman Spectroscopy, X-Ray Tomography, and Atom Probe)
These facilities are open to all researchers as part of the National Nanotechnology Coordinated Infrastructure (NNCI), and information about becoming a CNS user is available.
If your research needs are outside the equipment available at Harvard, please also check instrumentation available through the Materials Research Facilities Network (MRFN).