Raising visibility of NSF MRSEC program
at the Materials Research Society meeting
Members of the Harvard MRSEC helped publicize research and opportunities of the NSF MRSEC program at the Fall 2017 Materials Research Society meeting. Associate Director Jennifer Lewis, along with MRSEC postdoctoral fellows and graduate students, spoke with researchers at various career stages about opportunities to participate in MRSEC research and educational activities.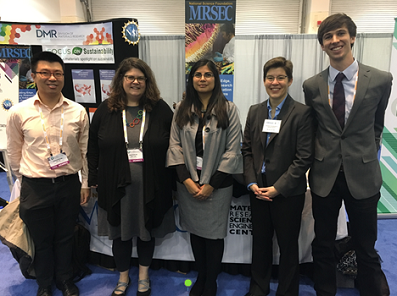 Ho Chueng Anderson Shum (left), former MRSEC REU and graduate student, now faculty at Hong Kong University, and Yolanda Vasquez (center), former Harvard MRSEC postdoc, now faculty at Oklahoma State University, with Harvard MRSEC education director Kathryn Hollar, Associate Director Jennifer Lewis, and graduate student Ryan Truby.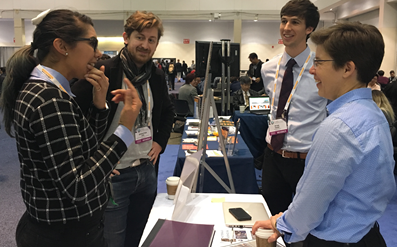 Prof. Jennifer Lewis (right), graduate student Ryan Truby (rear right), and postdoc Sébastien Uzel discuss MRSEC research with former REU student Rachel Miller.